Listen up! We've found a modern-day version of the Wizard of Oz! He may not live in Oz, nor hide behind a green bejewelled curtain, but he's credited with developing major musical talents and working with the industry's most recognizable names.
With 67 million record sales worldwide, his work has won 4 Brit awards, 18 Grammys, 2 Ivor Novello awards, 17 Top 10 Albums, 11 Top 5 Albums and 5 Top 5 singles and he's far from turning in his hat. What fuels him? Let's have a read…
▹ What were you like as a teenager and how did you get your start in music/ how did you make your first buck?

▸ Ever since I was a child I have always had a passion for music. I attribute my love of music down to the fact that as a child I had really bad eczema and asthma. When I woke up unable to breathe, my mother would sing to me and calm me down. My eczema was a literal waking nightmare and some nights were filled with the dread of dying from an asthma attack! I was tormented by it and so I turned to music for comfort…
I liked music by Jona Lewie, Adam and the Ants, Pink Floyd and New Order and really liked Phil Collins, The Pet Shop Boys and U2  who I ended up working for at different times, which was a great experience. And I think these discomforts made me want to create something artistic. I started by writing poems; I wrote a book of poems and printed it up and took it around to book shops for 'sale or return'. I won the 'Mid Sussex Festival Of Poetry And Prose' two years in a row with poems I wrote myself.
At the age of 14 or 15, I got into writing songs. I was at a boarding school.

When I left school at 18, I went busking around Australia and then, upon my return, I started my own little home studio teaching people how to use computers to make their own music. Basically, I had an Atari computer running a very early version of Cubase and an Ensoniq EPS sampler and people would come around to the studio and pay £10 an hour and I'd make records with them. It was early days for computers and sequencer software…
My clients were DJ's, songwriters, musicians and artists, some of which ended up being quite successful, and in retrospect, these clients are very much like the same groups of people I still work with today! I love most of all working with emerging artists and sharing with them the joy and wonder of creation, artistry and sound!
I suppose one might say that I am a producer/artist who thrives on collaboration, and my career developed from these studio sessions sharing my wonder and enthusiasm for new sounds and music.
Some producers are basically 'sound engineers' who can record music well with great microphone placement, etc. I am not really a producer like that… I come at it as an artist much more rooted in creativity and artist development. I like most of all developing artists and creating with them a unique, new, visceral, vibey sonic identity!
So after a few years teaching from my home studio, I got signed to a small label called Triumph Records. I released a single as 'SkyArk', and after that, got signed to IndoChina Records as 'Arc In The Sky' and released a few more EP's and singles. Eventually, I signed a much bigger deal with Echo Records / Chrysalis Publishing as 'Arc Angel', releasing an EP which was playlisted by Radio 1. This allowed me to invest a significant amount into new music gear and make my own proper studio.
Out of the blue, I received a call from Bryan Ferry, enquiring whether I could come to his studio to programme for him for a day.  Bryan had heard my single on the radio and loved the sound if it…
I said I would be very happy to and this started a whole new chapter in my musical journey… James as a 'Music Programmer'.
The 'one-day' session became a few days, then a week, then a month, and in the end, I worked with Bryan Ferry for many many months. We collaborated on Bryan Ferry's eleventh studio album, Frantic, which was released in 2002. Then I met Brian Eno at Bryan Ferry's studio and then worked with Eno setting up his studio and synths and programming for him in his studio for another eighteen months. I acquired an even deeper understanding of sounds and synths, and after that, I was working almost every single day at different studios around the world for well-known artists as a programmer. For many years, I had at least one or two records in the top 10…
I did this for about 15 years and loved almost every day, but after a while, I began to feel that I'd like to do more of my own writing and producing, so I searched for a band to develop. The first band that signed with me was Keane. We made a massive hit record. I had bought a house in the country as the venue for these artist developments… and Keane was my first creation!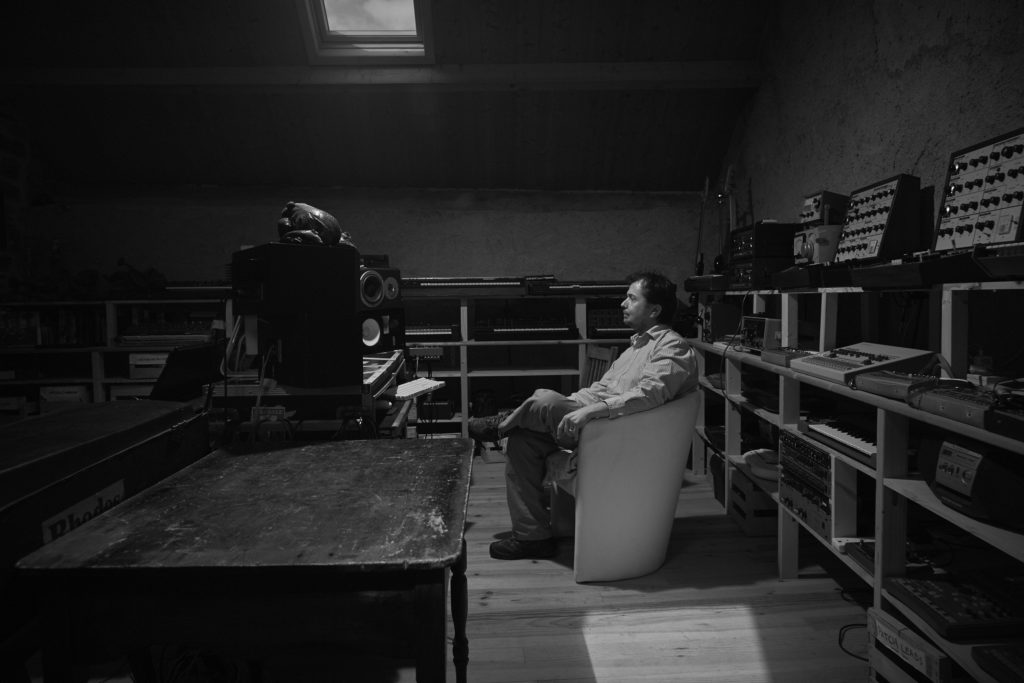 ▹ You've worked with some huge names in music, which of these collaborations do you see as having been the most influential on you?
▸ Can't say without crediting every one of them… I have a relationship with all that I value.
▹ What do you think should be required listening for all musicians?
▸ Everything…. Not one thing…. 
▹ If there was one piece of advice you could give every musician, what would it be?
▸ Be original and enthusiastic and true to yourself…. Don't copy anything you hear on the radio!
▹ Can you think of a moment in your life that shaped you into the person you are today?
▸ Nope… perhaps having eczema and asthma has had an effect on me? I don't know.
▹ What is the biggest mistake you've made in your career and how did you go about fixing it?
▸ Sometimes, I have been an idiot by being too pushy with an artist over an idea or sound and I feel like I may have not been as diplomatic and vibey as I should have been. People know me as passionate and enthusiastic. In fact, that is how I got the nickname 'Vibey'. It was Phil Collins who started calling me 'Vibey'. He noticed I said "This is so vibey… that is not so vibey" etc etc etc… so he started calling me that and it kind of stuck… Hence my studio is called 'Vibey Studios'.
▹ What is one thing you wish you could change about the world?
▸ It makes me sick that Spotify and YouTube are not paying proper royalties. I think that they are breaking the law but they are getting away with it…
▹ What quote or mantra do you live by?
▸ I say some things… one of them is 'The secret of success is to keep your initial goals intact and don't stop until you get there'. I also say 'Careful what you wish for…'
▹ Why did you join Mentorly?
▸ I want to continue sharing my passion for music and the music industry with people. I am not a cynic… I still love making records and I still love a lot of music that is made by musicians today. I am lucky that the sense of wonder and vibey energy I get in the studio (or over the net) with people creating new music feels the same to me now as it did 30+ years ago… I genuinely and sincerely love it.