The average tenure at the top 10 tech companies is less than two years. This means that by the time an employee get's ramped up, they are almost on their way out.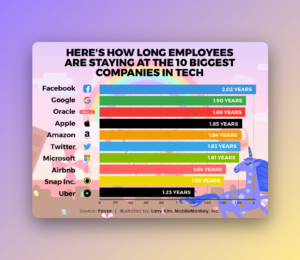 According to a study by the Association for Talent Development, higher employee retention is among the top benefits of mentoring programs. Higher employee retention is more important than ever in modern workplaces with waning employee loyalty and more frequent job hopping.
When employees feel connected to the organization and have a sense of belonging, they're more likely to stay. Studies show that mentorship programs can, indeed, make employees more loyal. Deloitte's fifth annual millennial survey showed that almost 2/3 of survey takers would stay at their companies longer if offered mentorships. 
What Is Mentorship?
Mentorship or mentoring programs tap into senior or high-performing employees' existing skills, experience, and knowledge. The goal is for their knowledge and skills to be transferred to people that undergo a mentoring program. 
There are three ways to implement mentoring:
Distance mentoring – Meeting from remote locations

Individual mentoring – In-person meetings 

Group mentoring – A group of mentees participating in a program with a single mentor
With mentorship, you get to assist the decision-making process of your employees, refine their points of view, and help them adjust better to the new work environment. You'll find more on the benefits of mentorship below.
Importance of Mentorship for Employee Retention
Many companies struggle with unfulfilled potential, increased turnover rates, and disengaged workers. Employee turnover has slowly become a predominant challenge for businesses worldwide. There are at least seven reasons for this behavior:
Hiring entry-level workers who don't plan to stay for long

Hiring minimum-wage workers

Offering lower compensation than the competitors

Poor project and people management 

Easy access to job listings on the web for employees

Different priorities for workers

An increase in remote working opportunities 
While not all of these reasons are in the control of the employer, some of them certainly are. The lack of proper mentorship is an important factor in employees leaving their jobs. In fact, almost 94% of employees would stay at their current job if they received more chances to learn and grow. 
Mentorship is an excellent opportunity to promote growth and boost the self-esteem of employees. A Center for Creative Leadership study showed that employees who participate in mentorship activities stay at their company the longest. These workers also have the highest job satisfaction. 
Importance of Mentorship for Career Development 
Mentorship offers employees a unique opportunity to learn from teammates or professionals with more experience in a particular field. A mentor can provide support, guidance, and valuable advice. All of this helps fine-tune and develop a new employee's skillset. As a result, the employee has a better career path and can get the proper training to work with tools that can help them succeed.
According to CNBC, people are changing jobs at unprecedented rates. The lack of quality mentoring programs is certainly a major contributor to that problem. A Bureau of Labor Statistics study shows a 57% turnover rate. Of that number, 25% is due to voluntary turnovers. 
Also, according to the Association for Talent Development study, the same percentage of employees (57%) who participate in mentorship programs say the experience was very effective and helped them learn and achieve professional goals. 
Mentoring offers tremendous benefits for employees. It also adds diversity to the workplace and puts performance and quality first. What best evidence to prove that than the CNBC survey saying nine out of ten workers with a career mentor are happy with their current jobs?
As an organizational executive, you should realize that your employees are your biggest asset. When you connect them in a mentorship program, they become committed to boosting organizational productivity and performance. 
Benefits of Mentorship Programs for Employers
A Society for Human Resource Management reports that employers often have to spend up to nine months of their employee's salary to find a replacement. An employee who earns $60,000 can cost up to $45,000 to hire a replacement. 
A similar study by the Center for America Progress shows that one lost employee can cost the company up to 16% of that employee's salary for hourly employees. For unsalaried workers, the percentage can go to a whopping 213% for highly trained individuals. As an example, a highly trained worker who makes more than $120,000 per year could cost the company more than $250,000. 
Employers don't only benefit from mentorship programs in the financial aspect. The lower turnover rate, higher productivity, and increased satisfaction of employees help the organization in the long run. A mentored employee is more connected to their company, has higher chances of staying loyal, and is more likely to work hard. 
Before employers start a mentorship program, they should prepare actionable objectives they can measure to track the impact on employee retention. Some key performance indicators to measure include retention rates, engagement activities, satisfaction scores, and skill development targets. 
Potential Challenges of Mentoring Programs
Mentoring programs can be of tremendous help to boost employee retention and career development. However, there are potential challenges worth considering when organizing a mentoring program in a traditional way:
Success measurement and assessment 

Communication management 

Matching bias 
Luckily, mentoring software can help eliminate these challenges and boost the effectiveness of your next mentorship program. The matching biased is eliminated using smart mentor matches. The software also allows easy communication and has KPIs you can measure effortlessly. Programs such as Mentorly have all it takes to transform your "okay" program into a robust experience for employees to value forever. 
Don't Neglect the Importance of Mentorships – Rely on Mentoring Software
Mentorship is a win-win for both employers and employees. The approach to mentorship programs can make all the difference in how employees interact and view their employers. So if you're looking to increase employee loyalty and satisfaction, consider mentorships as essential parts of your organization. 
The stats mentioned in this article indicate that mentorship plays a crucial role in employee retention and career development. As an employer, it's your responsibility to use all available tools and implement a mentoring software or platform to boost employee engagement. 
Software such as Mentorly helps companies facilitate mentorship programs, up-skill their people, and boost the overall job satisfaction and productivity rate of employees. Getting a Mentorly software license can help you reshape how your employees feel about your organization. Use it for remote mentorship, professional networks, or skills development in one or multiple departments. Learn more here.