Jenny Laroche isn't just a dancer, choreographer, actress & Broadway star…
After chatting with her for a 25-minute Instagram Live session, we learned so much more about this multitalented New York City-based artist.
Jenny, a Floridian and SUNY Buffalo graduate, has over 15 years of experience in dance. She has performed as a Radio City Rockette, starred in Steven Spielberg's SMASH, appeared in Blockbusters such as New Year's Eve, Annie, was an original cast member of Broadway's Summer: The Donna Summer Musical and Associate Choreographer of the National Tour, and even Associate directed theatrical productions including Mariah Carey's All I Want For Christmas show. But that's not all!"
Jenny wants to give back to the community by offering her wisdom and sharing her experiences as a Mentorly mentor and through personal projects.

How did Jenny explore her passion for dance and how did it lead to so many great experiences? How did her other talents follow and contribute to her success? Take a look at her inspiring journey that will motivate you to dream big!
▹ Let's start from the top. You grew up in Fort Lauderdale. Did you train from a really young age? Or did you always know you wanted to be a performer, an actress?
▸ "I started dancing when I was 3 years old. And like, I'm sure, many other kids, my mom put me in dance cause I wouldn't stop moving. I would just dance all over the house. I was always tumbling or falling, and then she finally put me in dance, and I've been dancing ever since."
▹ Did your parents feel like this was going to be your profession? Or how did you figure out that you wanted to pursue this?
▸ "From when I was a kid, I always loved it. And I never really knew you could make it into a profession. [To think] How do you actually do this for a living? How is this your livelihood? – type of thing. That was always a question and a fear growing up. As for my parents, I wouldn't be a performer if it weren't for them and their encouragement. My dad, who was my biggest cheerleader, has sadly passed away about two years ago now. […]
Moving from Fort Lauderdale to New York? What? That's the biggest step. My dad said, "You'll never know until you try. Florida isn't going anywhere. You could always try pursuing other things afterwards." With that total safety net, I moved here. […] I got my BFA at SUNY, and I would spend my summers coming to New York City, training and figuring out the subway. That's how I started to get acquainted with Manhattan. […] It was the best thing I could've done, cause then after I graduated, I moved here and I felt like I got this – let's just go for it."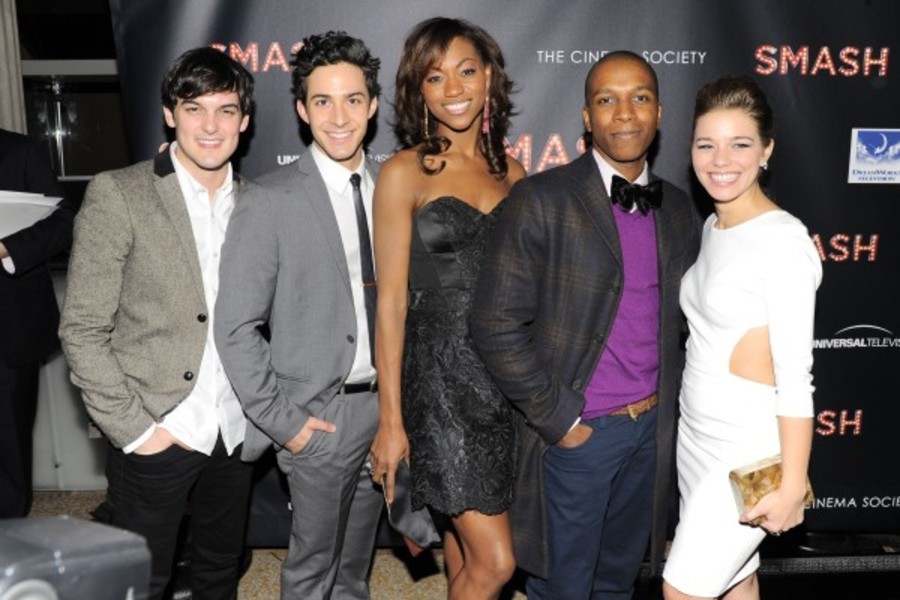 ▹ Do you feel like New York is still the place for people to go if they have big dreams and want to make it, or do you think it's a little bit more equalized now?
▸ "No, absolutely. It's still very much a place for ambitious, hard-working people that have a dream and really want to pursue it and follow it. I still put emphasis on the hard-working, determined, persistent people. It's just one of those places that weeds out the weak, if you're not going to keep pushing through the many obstacles that come your way as an artist, actor, dancer, singer […] it's a really tough place because no one's here to hold your hand. You just have to chug along, but you're also among friends that are doing the same thing, that are putting in the same time and energy. It's a great community."
▹ How did you build that community of friends? Did you meet them at auditions? Did you find them to be competitive or can you really lean on them as you go through that journey?

▸ "My friends in the industry, I can absolutely lean on them. The friends I have now, I have met through job experiences – we're always at the same auditions and all that. There are definitely some people, but they tend to not to become your friends, who are very competitive, and maybe don't know how to balance the fact that this is our job and way of life and that we're always auditioning. But at the same time, you support each other, right? We're always going to be working together in one way or another. We never want to create an atmosphere where you have this reputation about yourself, however that may be, because if the person you're auditioning with, is not booking the job with you – down the line they might be a casting director, a director, choreographer […] The community is actually really small, so it's important that you have to be respectful."

▹ Have you found one niche area to be your favorite or that has lead to more opportunities? How do you balance your talents and how do you choose what to pursue?
▸ "I always like to dip a toe in everything, I think that's why I managed to do television, film, broadway, off-broadway, commercial dance, working for musical artists… I like to gain new experiences and make sure I'm always growing and learning. That's something I like. I remember, so my first job, I was a Radio City Rockette, I toured the country. Coming back I would just audition, audition, audition. After Rockettes, I went into television and SMASH came about. [They] offered me the part. [On set] We had a live audience, I had been shooting the series for a year. That instant gratification, the applause, the energy, I realized how much I missed being on stage. Television was no longer enough for me. Then I went back to, "I just need to be on the stage, I need to feel that energy, creating movement and transitions," and all of that. It's a different energy that you can't get on set. But honestly, I love both, whenever I'm doing one – I miss the other. As long as I get to keep going back and forth, I'm a happy gal."
▹ How did you find the confidence in yourself to know that you're ready for this, or that you were enough to read to get that big show? Or did you continue to learn and evolve as you continued to shoot the show?

▸ "You're never not growing as an artist. I'm always strengthening and maintaining. During the reading process, I worked with a coach. I never liked being boxed into any category. I've been very adamant about the book I am writing, it's called Don't Call Me a Dancer — my friends love that title. I admire Zoe Saldana, who has a dance background, but now she's this big-time blockbuster movie star. When you show people what you can do, they'll always hold you until your last title. If you stay in that box, you'll never get to use all of your assets. I keep pushing past titles, labels, boxes. That would be my suggestion for everyone. Whatever it is that you're passionate about […] as long as it's in your heart, and apart of your truth, no one can tell you anything."
▹ Can you talk a little bit about your own technique? And how you discovered that within yourself and made it very much a business?
▸ "The Laroche Approach, a play on my name – I started it about 5 years ago. I was teaching master classes, which I loved doing, but I felt like it wasn't enough. It started at SUNY Buffalo, I was one of their alumni members. I said I wanted to create my own seminar. I was like, "Everyone, bring your notepads, I want to go over the business of the arts, I want to talk about budgeting, how to even find an apartment in Manhattan. How do I find fellow auditionees? How do I network? How do I audition?" There are a lot of things I wasn't teaching. The seminar went over so well, and what really stuck with me is a student was like, "I can't tell you how beneficial this was. Because we love our professors, and we love that we're getting a degree from this art. But the people that we're learning from have been out of the business for so long that we're asking questions that no one knows the answers to." That's what I love Mentorly so much. I would've loved to have a mentor in the business that could kinda hold your hand and guide you. Make sure you're not just trusting whatever agent of manager that's approaching you at the time. From then on, I've done private and individualized sessions. I have my first workshop coming up, I'm going to be teaching choreography, technique. I'm bringing an agent with me to have that conversation of looking over contracts and all of that stuff, as well as a director – so everyone can get the full, triple-threat learning experience."
▹ With your Mentorly experience, what did you connect over? Is there anything that you'd love to share with our Instagram live audience?

▸ "I loved meeting someone new. My first mentee – lovely – I don't think I would've met her without this platform. She really wanted to know how to get into the business, aside from showing up to open-call auditions. She wanted accurate, of-the-time feedback as well as what we don't necessarily want to talk about. [Like] How do you maintain a sense of value when you're not doing a show, and you aren't being hired for something? We have the conversations of what castings, directors [look for], it's all a long list – and it doesn't necessarily have anything to do with you. A lot of that stigma, I also love talking about. I share my own practices, meditation, balance and passion projects you always have when you're off-season. There's always going to be an off-season, no matter who you are. Even if you're Brad Pitt. There's always gonna be an in-between of contracts, the sense of value is really important and that's very individual."
—
Keep an eye out for Jenny's The Laroche Approach workshop at SUNY Buffalo State on October 12th and the release date of her upcoming book, Don't Call Me a Dancer.
Want to stay updated on Jenny's next projects? Make sure to follow her on Twitter and Instagram. You should also check out PERIOD., a non-profit that Jenny's apart of. They are providing feminine hygiene products to young and homeless women worldwide –  find out how you could get involved!
Article written by Mentorly Associate, Mila Costa-Gizli