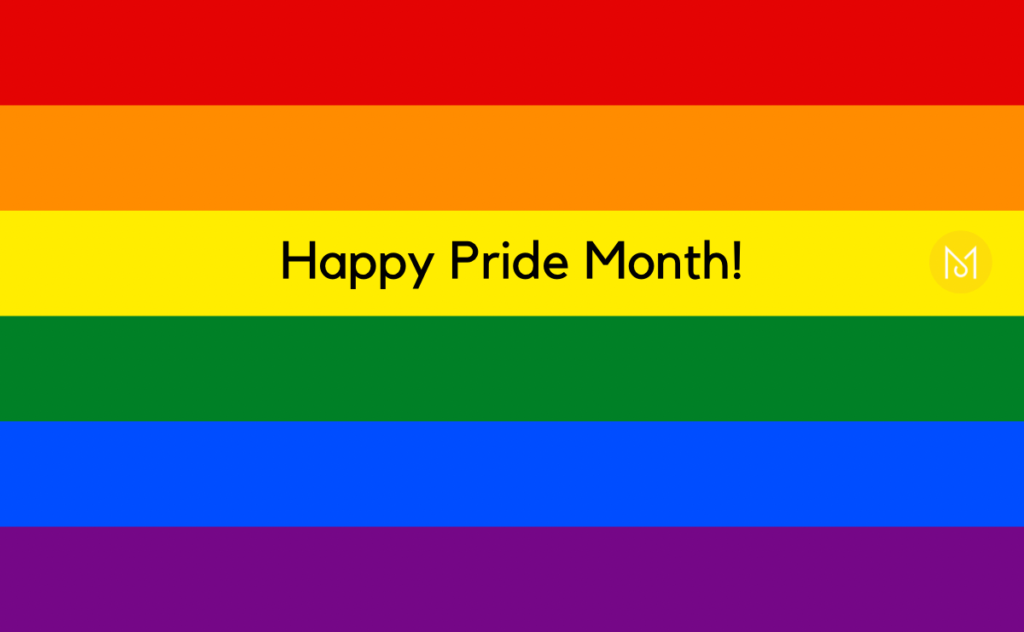 With bright colours everywhere… June is all about celebrating peoples' identities and embracing being true to yourself!   
Many in North America and across the world recognize June as Pride Month. It's a time to celebrate and support the diversity of the LGBTQ+ communities, while acknowledging their history and hardships that they have endured throughout their journeys, as well as the progress they have made. It's important for the LGBTQIA+ community to have role models and a great representation in society to look up to.
In honor of Pride Month, we wanted to highlight and celebrate some of the most influential personalities and trailblazers that are a part of the LGBTQ+ community:
1) Ariana DeBose
Ariana DeBose is an Actress, Contemporary Dancer, Singer & Broadway Star. In 2022, Time magazine named her one of the 100 most influential people in the world. Not only did DeBose win an Academy Award but she also won a British Academy Film Award and a Golden Globe Award. She's the first openly queer woman of color to win an Oscar for acting, for West Side Story. Moreover, she's also the first Afro Latina to both be nominated and win an Academy Award for acting.

We've also had the pleasure of having Ariana DeBose as a mentor on Mentorly. Young artists and mentees were able to get first-hand career guidance from Ariana via Mentorly. "Connecting with my mentees & watching the light bulbs go off is one of the most exciting experiences I've had in a long time. Helping them break their own boundaries and go out of their comfort zone is inspiring to witness and ultimately fills me with a sense of wonder and purpose. Thank you Mentorly!"
Ariana DeBose has opened up about identifying as queer in multiple interviews. In December 2020, DeBose and Jo Ellen Pellman launched the Unruly Hearts Initiative. The initiative was created to help young people connect with organizations and charities that advocate for the LGBTQ+ community. "So to anybody who's ever questioned your identity ever, ever, ever or you find yourself living in the gray spaces, I promise you this: There is indeed a place for us," DeBose said during her acceptance speech.
2) Ana Arriola
Ana Arriola is the Director of Product Design & Research at Microsoft and known for previously working with Apple as a product designer of the original iPhone. A global creative who knows the inherent importance of future intellectual property rights within product / UX innovation. She was named as one of the most influentiаl LGBTQ+ people in tech by Business Insider in 2019.

Ana is a fierce advocate for the lGBTQ+ community in and outside of the tech world. She's also a mentor and advisor to queer/LGBTQ+ startups. According to her LinkedIn profile, She describes herself as a queer Latinx woman of trans and non-binary experience. She had worked under big brands like Adobe and Apple at that time and has previously worked at Facebook, Samsung, and Adobe. During her tenure with Sony, Ana was directly responsible for establishing, defining, and driving Sony's common UX across all 5-screens known as "genome" from Bravia, Xperia, to Vita, ending with the PlayStation 4 console and connected experiences.
3) Arlan Hamilton
Arlan Hamilton is an investor and the Founder & Managing Partner of Backstage Capital, a fund that invests in "underestimated founders". Underestimated founders for the fund are defined as women, people of color, and members of the LGBTQ community.

Hamilton's story is truly an inspiration for everyone. From sleeping on the floor of San Francisco Airport to running a $20 million in VC funds, when an investor wrote the first check that set her on the way to becoming a venture capitalist. "I want to share this journey, not because I think I'm exceptional, but because, like many people, I have been exceptionally underestimated," Hamilton wrote in her 2020 book, It's About Damn Time. She was living in San Francisco Airport when she founded Backstage Capital. The only possession she had of any value was her laptop. She used the airport as a base for traveling across Silicon Valley and meeting investors.
The Business Insider named Hamilton as one of the 23 most powerful people in tech that identify as LGBTQ+. She has recently founded Arlan's Academy where she offers free business courses to the public. This is another great example of how she tries to ensure that everyone can have the resources they need to try and improve their circumstances.
Thankfully, dozens of LGBTQAI+ role models have come out publically in recent years so the younger generation have more people than ever to look up to and show them what is possible. It's important for our LGBTQ+ community to see other people like them in society so that they feel represented, inspired and motivated to be their best selves and most importantly to have role models who they can relate to.
Happy Pride from all of us at Mentorly! 🏳️‍🌈