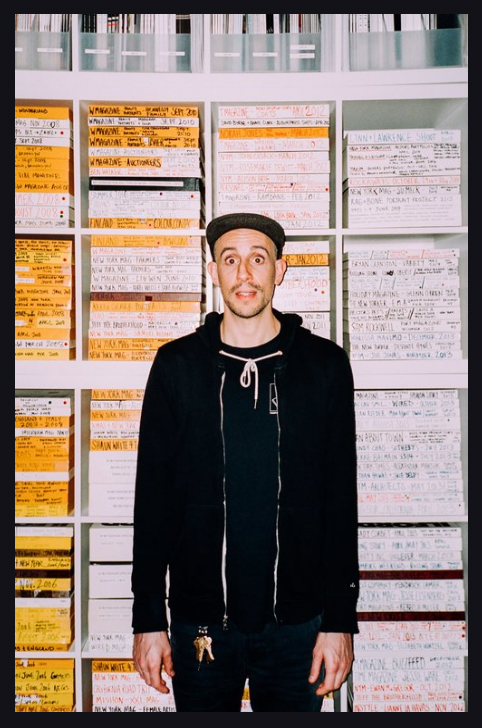 Andreas Laszlo Konrath brings his authentic and material relationship with photography to bear in his portrait and fashion assignments. Calling forth the rich heritage of photography and film's experimental history, Konrath creates visual encounters with his subjects that are enduring and authentic. His images appear in magazines including The New Yorker, Holiday, Man About Town, New York Magazine, W, as well as in advertising campaigns and special projects for Pierre Balmain, Burberry, Rag & Bone, and the Toronto International Film Festival. His deep capacity for subjective visual storytelling underpins his commissioned and independent short films, which carry his evocative aesthetic. Konrath is also a leading creator of zines including J.O.E., Made in Brooklyn, If the Kids are United and Anthony No Name At Gmail Dot Com. He is the co-founder of PWP with designer Brian Paul Lamotte.
▹ Mentorly – You got your start working in the world of skateboarding, does this world still have a lot of influence on your work today?
▸ ALK – Absolutely! I always say I would have never of discovered photography if hadn't been for the influence of skateboarding. Growing up in that world taught me everything – from meeting random people at the skatepark or in the street and sparking up a conversation because of the mutual love skateboarding – and back then in the 90's there weren't as many people doing it – so you had to make friends with anyone you could! Through that, I was able to cross paths with many different types of people from diverse backgrounds that I wouldn't have had access to through anything else. That in part led to my curiosity with the people around me, and when I ended up with a camera in my hand it just seemed natural to photograph them. I think that type of approach and that curiosity has always stayed with me to this day.

▹ Mentorly – You also co-founded PWP, what inspired you to get into publishing?
▸ ALK – Pretty much the same thing – reading Thrasher as a kid, and listening to music, being fascinated with 12″ & 7″ record sleeves, cassette tapes, posters and then discovering zines. When I found my footing and felt confident with my photography, I knew I wanted to find an affordable way to disseminate it to people that I thought would enjoy the work. Brian Paul Lamotte – my partner at PWP – is a designer, and we had the goal of creating space for independent dialogue, exchange, and collaboration within the art and photography communities. After making a lot of mistakes in the process of creating our first publications, it became our foundation to not only help and actively encourage young image-makers to pursue their own ideas, but also inspire ourselves in the process.
▹ Mentorly – In your opinion, what is the most important trait for a successful photographer to have?
▸ ALK – This may sound trite, but honestly, it's just to be yourself. Believe in what you want to do and stand by it. You can't be too calculated so just be ready for things to change. Inspiration will be there, then not; work will come and go, life will go up and down; you can't force things so just try and take things as they come. So I suppose what I'm trying to say is find some space between determination, resilience, hope and having open-mindedness.
▹ Mentorly – What is the best piece of advice you've ever been given?
▸ ALK – My best friend Richard Phoenix who I have known since we were 11 years old was teaching at a school for a while and when he decided to leave his position, one of the young children from his class gave him a goodbye note. It read "Keep Moving Forward". He told me about that immediately after and I've always held onto that story for inspiration when having doubts about my own decisions in life. Also, it's very important for me to consider that sentiment often since photography is all about recording the past, and it's useful to not get stuck in a refuge there.
▹ Mentorly – What do you consider required reading for all photographers.
▸ ALK – Well, there's the obvious ones I read when I was at College like Camera Lucida  by Roland Barthes, but there's a couple of essays I like by Paul Graham, The Unreasonable Apple and Photography is Easy, Photography is Difficult. I also very much like reading Sophie Calle's texts that often interplay with the images in her work.